What does your certification mean?
---
I have obtained a Professional Dog Trainer Certification from the Karen Pryor Academy of Animal Training and Behaviour. The Karen Pryor Academy is widely acknowledged as one of the most outstanding and rigorous training programs available to serious professional dog trainers. Founded by world-renounded trainer an author Karen Pryor, this intensive program focuses on modern, force-free training methods, backed by science - setting its graduates apart in an industry without professional standards.

The Karen Pryor Program privided me with extensive knowedge in animal learning theory, advanced cueing, understanding canine body language, behavior modification, and working with pet owners. I was required to pass a number of knowledge tests throughout the course including an in-person assessment in Washington by well-known trainer and author, Terry Ryan. To ensure that my skills are as up-to-date as possible, I must complete ongoing education to maintain my certification.
---
What does positive, reward-based or force-free training mean?
---
I means that I will use rewards and reinforcers to motivate your dog instead of pain, force or intimidation. Positive methods will help you and your dog develop a strong partnership built on trust, and will prevent your dog from developing fear and anxiety issues related to training.

I will use food, toys, games, clicker/marker training to motivate your dog during training sessions. I may also recommend management strategies to prevent your dog from practicing undesirable behavior while we work on teaching the dog what we want them to do instead.

I will not use choke chains, prong collars, electric/shock collars, scolding, intimidation or physical corrections. This does not mean that undesirable behavior will be ignored or tolerated. I will work with you to develop a custom training program to address unwanted behavior without the use of tools that will frighten or hurt your dog.
---
Do you offer clicker training?
---
Yes. Clicker or marker training is the fastest way to communicate with your dog and teach new skills. I'm happy to work with you using a marker word 'yes' if if works well with your situation and training goals. Learn more about clicker training and the benefits of this method in the video below: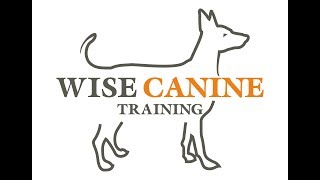 ---
Do you offer private lessons?
---
Yes. I private private coaching at your home within Whitehorse city limits, or in my training facility at 170 Titanium Way. Please see the Private Coaching Page for details.
---
Do you offer group classes?
---
Yes, I offer small group and semi-private classes for puppies, manners, recalls, loose leash walking, nosework and reactive behavior. See the Group Classes Page for details or email to inquire about future offerings.
---
How long will it take to train my dog?
---
It depends. Training basic manners can go very quickly if you're dedicated to practicing with your dog. Behavioral problems can be more complex and you may take longer to see improvement.
---
How early can I start training my puppy?
---
Immediately. Puppies training and socialization can be started as soon as you bring your puppy home. Infact, it's critical to your puppies development that you start during this critical stage. Learn more about Puppy Socialization.
---
Do you offer a guarantee?
---
I believe it's unethical to provide guarantees for training outcomes. Dogs and their owners are individuals who learn in different ways and at different paces. I can guarantee that I will work hard to ensure that the training process is a positive one for both you and your dog.
---
How much do you charge?
---
You'll find my rates on the following pages:
---
It seems expensive, what am I getting for my money?
---
For your investment you get my education and experience, personalized attention in small classes (maximum of 4 students for most classes), private coaching, or day training, training to meet your goals, and email support throughout the training process.

The rate covers the time I will spend helping you train your dog, traveling to your home (for day training and private coaching), planning our training sessions, and preparing and sending email homework.
---
Do I need to buy equipment for training?
---
Usually all you'll need is a flat collar or anti-pull harness, a 6 foot leash, high value treats, a toy your dog loves, and treat pouch. If I recommend using a clicker, I'll provide one. Here is a list of recommended equipment and where to buy it.
---
What type of payments do you accept?
---
I accept credit card payments using a client management system and email money transfer. I also accept cash and cheques upon request.
Day Training package payments can be split up into multiple payments upon request.
---
What if I have questions not answered here?
---
Contact me and I'll be happy to answer your questions.
---
What questions should I ask when hiring a dog trainer?
---
Dog training is an unregulated industry. This means that anyone can sell training services with no minimum education requirements, no license requirements, and no standard of care. Choosing a dog trainer can be one of the most important decisions that you make in your dog's life. The techniques that a trainer uses can strongly affect how you interact with your dog for years to come. Therefore, it is very important to choose your trainer wisely. Here are some general questions to help you find the most qualified trainer:
When and where did you obtain your certification?
Are you required to continue or upgrade your education to maintain your certification?
What equipment do you use when training a dog or do you recommend I use?
What will happen to my dog when he gets it right?
What will happen to my dog when he gets it wrong?
Are there any less invasive alternatives to what you propose?
Additional Resources:
---
What are your service policies?
---
Please familiarize yourself with our policies as shown below. When you book a class, private coaching or day training, you are agreeing to follow these Terms & Conditions.
---
Will you travel to country residential neighborhoods outside of Whitehorse for private lessons?
---
Unfortunately, I'm unable to travel outside of the Whitehorse City limits for private lessons at this time. We may able to meet up in Whitehorse.
---
---
frequently asked questions
Wise Canine Training & Behavior is owned and operated by Michelle Wieser, KPA CTP